Tarot Readings. Free Daily Tarot Readings.
Tarot cards are an ancient set of spiritual cards which offer a connection to the energy that surrounds us. By connecting to this energy we are able to gain insightful guidance from the Universe into our destiny. These tarot readings are posted by Glen Hayman, a member of Aqua Maddison Numerology. Glen was a tarot card reader for the website HoroscopesByTarot.com.au before it became part of Aqua Maddison Numerology.
Open your heart and mind to the spiritual guidance of tarot.
Tarot Reading for Saturday 22nd July 2017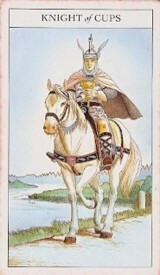 Today's reading focuses on the appearance of the Knight of Cups, The Fool, Ace of Cups and Three of Swords.
The combination of Knight of Cups and The Fool shows that today is one for the single people as the love and romance of the Knight of Cups links with the new journey of The Fool. As with every new relationship, The Fool shows an element of unknown, but its appearance is not a negative thing. The Fool tells you to embrace the new journey and embrace the new love as it can be quite significant in your life. The Ace of Cups shows the emotional balance and happiness from the journey, and it helps you move on from the hurt of past relationship experiences seen in the Three of Swords. A better relationship is there for you to experience, just open your heart and live for the moment.