Previous day's Tarot Reading
If you're in a different time zone or even just missed our daily tarot reading, below is the reading for the previous day.
Open your heart and mind to the spiritual guidance of tarot.
Tarot Reading for Friday 24th November 2017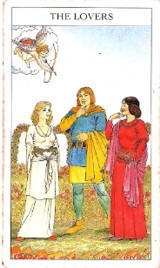 Today focuses on the appearance of The Lovers, Ace of Cups, Judgement and Death.
This can be a very significant day in your relationship status, and which way you go is in your hands. The Lovers shows the focus on relationships and relationship choices. The Ace of Cups shows how you want to find emotional happiness and stability in your relationship status. Judgement can be a sense of renewal to your relationship status. It can bring the rekindling of a past relationship, the healing of a temporary breakup or the decision to start dating again after a previous bad relationship experience. It is time to feel right about making a new or stronger start in your relationships. Death can bring the opposite but in a positive way. Death is there to help those who feel trapped in a loveless, stale relationship. It is there to help you build your confidence in bringing it to an end. Your happiness is paramount, and the transformative aspect of Death shows the better future ahead for ending a relationship that is slipping into negative territory. For those who need to end a bad relationship, donít worry you will find love again and it will transform your life for the better.